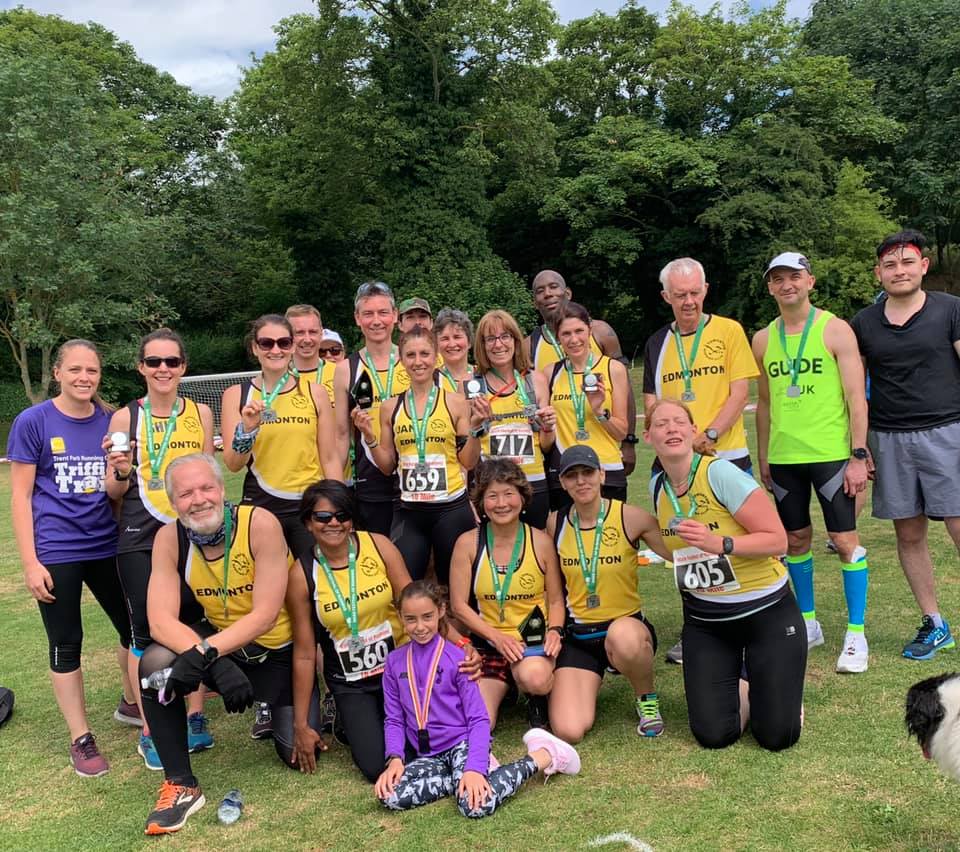 ERC are no strangers to Hertfordshire races, and Ware 10s was yet another ticked off the list this year with more runners and more achievements than I can shake a stick at, including 3 new club records. Can you believe there were just 10 runners at last year's race, and today ERC had the 2nd largest club turn out at the Ware 10 mile race which was just 2 runners behind Fairlands. In the 10k race, we were 3rd largest club in the 10k behind Ampthill and Ware Joggers. It is by pure coincidence that 21 ERC members took part in Ware 10s this weekend, and similarly 21 ran at Pymmes parkrun the day before. Seems we have a lucky number folks, and it's a fairly high one at that. The ERC turnout has been nothing but outstanding of late, 33 at Town Park on Tuesday, 32 at Hitchin MWL, 29 at Triffic Trail, the list goes on! The ERC members are growing and we like it that way, so much so we're out on a recruitment drive this coming Saturday 13th July at none other than one of our locals Pymmes parkrun.
Other than "the hill", the only tricky thing about Ware 10s seems to be deciding whether to sign up for 10k or 10 miles, so much so that indecisive me ended up not signing up at all and taking a rest day! Well I say a rest day, volunteering at junior parkrun and then supporting at Ware 10s was not quite a rest, you only need to ask my mother and mascot Chester who both fell asleep when we finally arrived home 6 hours since we'd left the house!
Whilst the runners were off touring the picturesque countryside of Ware and the stunning river Lea, the supporters (Xenia, Anastasia, Shaolin and family, Rita, myself, mother and Chester) kicked back with a hot drink and a scrummy cake, and for one, even a book! But we couldn't rest for long, the bumblebee attired runners were soon seen circling the field on their way to the finish, and onto the victories.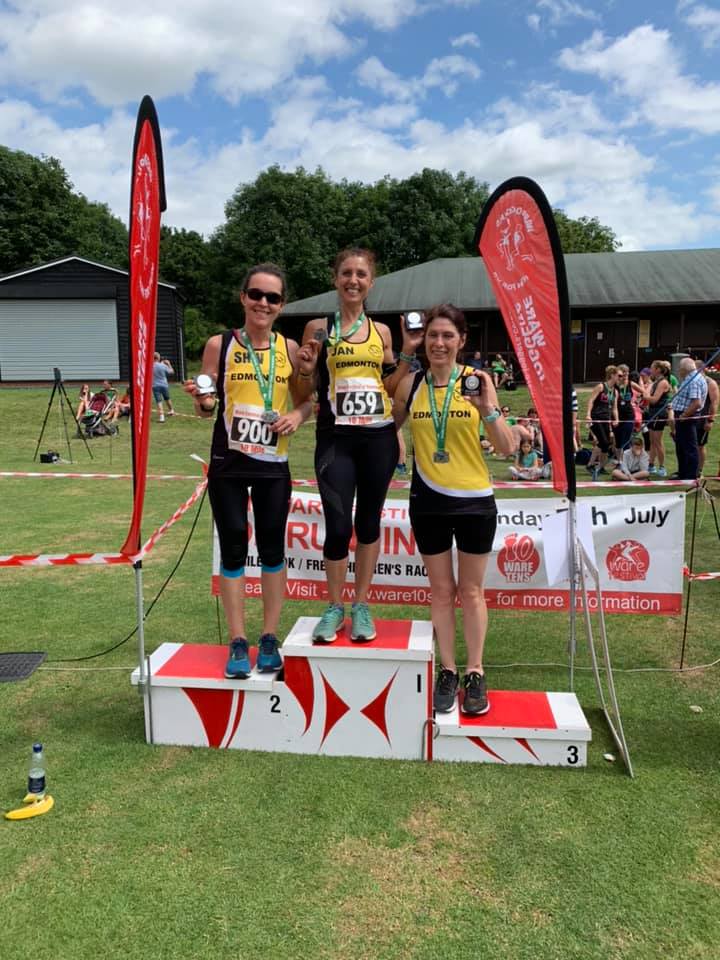 Now you might think some would take it easy the day before a race, particularly a 10k let alone a 10 miler, but as we know 21 ERC members were out popping the bucks fizz and celebrating mine and Miranda's milestones at Pymmes parkrun, with Rod even achieving a cheeky PB! Jan however seemed to do the right thing taking it easy the day before by coming to cheer and support rather than running, and ended up at Ware running 10 miles with a string of achievements longer than my arm…here we go. Not only did Jan obtain a cracking 3 min course PB of 1:16, but also first ERC female finisher, first in her age category, and one of 3 who won 1st female team award alongside Siobhan finishing in 1:19 and Catherine in 1:21! Well done podium winners! Speaking of amazing, Richard was the 1st ERC'er to finish in 1:15 achieving a club record in his age category. Ai Seng who is currently in training for Race to the Stones next week managed to once again win her age category in 1:29, achieve a course PB and on top of that a new club record beating her own time from last year! Ken, also in training for RTTS achieved a fantastic club record for his age cat with a 1:25 finish. Diran whooped home with a 3.37 min PB guided by Lightening "Safety First" Ilia for whom 10 miles was a new race distance and therefore a PB for him too, and a race time for both of 1:20. Ilia cited the most important thing was guiding Diran around the course without incident, and second important, a PB. Naturally he managed both effortlessly, well done guys! Nick Dines came and conquered Ware, sporting his virgin ERC tshirt and did us proud with a 1:21 finish with daughter Anastasia chasing him at the end. Even John Churchill had a great day with a couple of ladies, Ai Seng and wife Dee, he was quoted saying "I was chasing after one while trying to keep in front of the other one", a fab 1:30 for the Churchills. Last but not least to mention, lovely to see Maria who has recently been supporting us at various events, now back from an ankle injury romping home in 1:42.
2019 was the highest turnout for Ware with 687 runners. Support from the marshals was fantastic, there were plenty of water stops and the atmosphere was brilliant. ERC of course the loudest by far, cheering all their runners home at the finish. All had a fab day at the races!