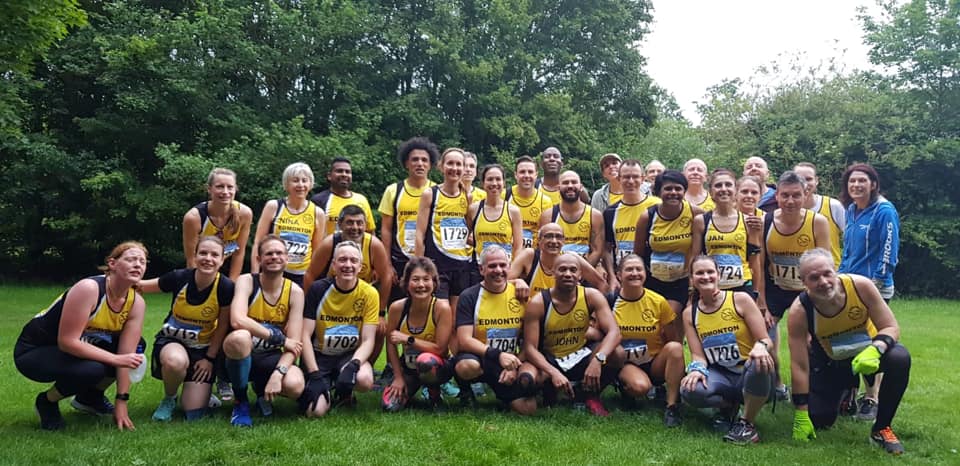 The final competitive Mid Week League fixture of the season was hosted by Hitchin……in (wait for it) ….Stevenage….which would have been a good excuse for Michael's customary late dash for the start line.
There was a fantastic showing by Edmonton Running Club with 32 runners and Simon, Aggie and Maria providing great support. The course was just under two laps of the Stevenage concrete jungle. Conditions were a little chilly but good for running after rain at Watford and Harlow, and we all enjoyed the downhill start. The excellent photographs on Facebook show a stream of Edmonton Runners near the front seriously burning rubber. I think a few of us regretted that quick start!
Alas the downhills had to come to an end, and the second part of the lap consisted of a deceptively challenging uphill stretch. The course was described as 'undulating' – a word which I urge the campaign for plain English to investigate. I've been running now for 5 years and I have finally learned to be wary of this word 'undulating' – let's face it – it means the run will be hilly. The truth is that Run Directors use this word to trick unsuspecting runners into signing up for their events! As this was a two lap course, we got to enjoy the downhill for a second time and then endure the undulations in the final 3km to the funnel. That final stretch really hurt, but ERC runners are made of strong stuff and we powered through.
So onto the running, there were some fantastic performances from ERC runners including a starling new PB of 54:10 from Dani (an improvement of 3:11 minutes). It was great to welcome Kevin back from injury, and to also have John and Dee running in the hallowed Edmonton Club vests for the first time. Katie was 13th in a strong Women's field where the first placed athlete finished in an amazing time of 35:18! I noted some particularly impressive sprint finishes – Marc continues his fine form and was eye-balls out over the closing stretch; Naresh responded to the cacophony of cheers from the ERC runners to blaze through the funnel; and Andrew picked up at least 2 places right on the line. There was a sea of yellow as we had 7 runners cross the finishing line in quick succession between 44 and 47 minutes; impressive racing!
So in the blink of an eye the business side of the Mid-Week League is concluded for another year – it seems not only a moment ago that we were all cursing that final undulation in the fields of Harpenden (now that was a hill!). If anyone has ever tried and failed to make sense of the Excel spreadsheet that contains the Mid-Week League results, then I feel your pain. All you need to know is that we should be proud that ERC finished a highly respectable 3rd (out of 8 teams) in Division 3. We missed promotion by just 1 place, and surely would have achieved the feat had the very strong Ware Joggers not joined the league this year. Ware topped the division with 63 points, then Harpenden Arrows with 56 points and then ERC with 44 well deserved points.
There's been some great racing, PB's, comebacks and debuts – but the enduring memory for me and for many other club members is the team spirit that ERC display at these fixtures. As has become tradition, there was a crowd of yellow vested club runners congregated at the finish funnel to cheer every member home. It really was quite a spectacle and something we should all be very proud of as a club – it is notable that Edmonton is the only club that does this. There were some great photographs and even better camaraderie.
The final chapter of the Mid-Week league road race season is the 'Mob Match' on 11th July in Welwyn. This is a non-competitive fixture, where all three divisions come together for a more social run and to give out the team and individual awards for the season. Fingers crossed there will be some silverware to recognise the efforts of our individual runners. Hope you can join us!
James
P.S – the Welwyn route is described as a 'flat very twisting course of two laps' – not undulating!