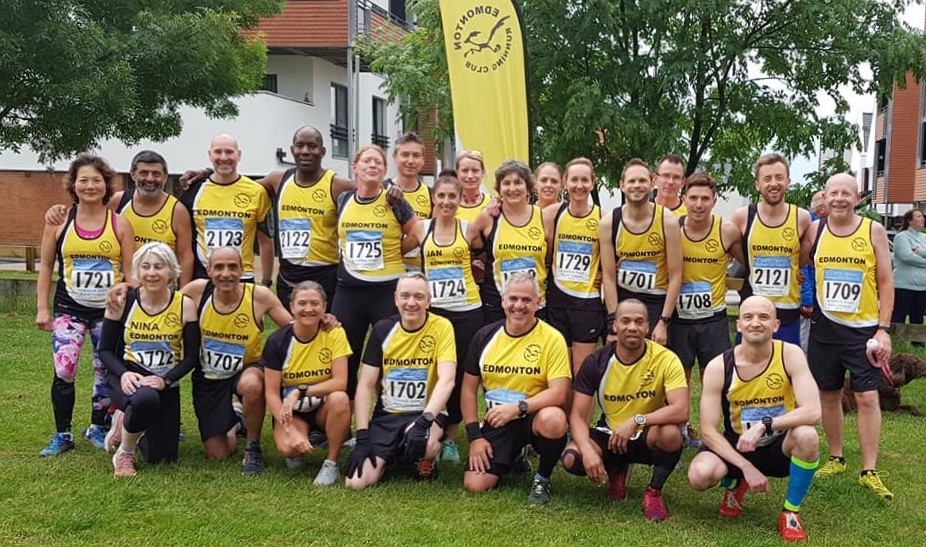 It is summer time and races are coming thick and fast now.

Fresh from great outing at Harpenden ERC squad descended upon Harlow in force. Now first things first – this time we had a full team!

The conditions were a little bit less tranquil – there was drizzle occasionally turning into rain pre- during and after the race. But this did not stop a magnificent performance by team ERC. The course while mostly flat included a couple of challenging sections – narrow paths with sharp turns and reduced visibility. Still there was some very fast running.

Hot on the heels of his sub 39 PB run at the Vitality 10k Mark was the first ERC runner home with only marginally slower 39:17 result. Jan occupied the top lady position again coming 3rd in her age category. Along with Becky who was second in her age category she is on the cusp of the season podium finish.

A special mention goes to the new club members Claire and Rod who after joining ERC only recently did not dally on the fence and jumped straight into the deep end. Kudos!

The full race protocols are on the league website –http://www.runherts.com/mwrrr.htm while you can check individual ERC performances here – http://www.edmontonrc.co.uk/latest-results/

After two races ERC sits third in the Division three – agonisingly short of the two promotion places. But the chance to rectify this will come very soon – the next MWL race (Watford) is only a week away. Mark your calendars and keep an eye on the club communications for the details.